Compound is one of the largest DeFi projects in the market. 

COMP's price has been in decline for most of H2 of the year. 

COMP selling volumes are in decline, an indicator that the bottom is near. 
Compound COMP/USD is a decentralized, blockchain-based protocol that allows its users to lend and borrow cryptocurrencies. With $25 million raised in 2019 for expansion capital of Crypto Lending market alone by Compound team, this project seems extremely promising! It benefits from being updated on the latest technological developments with the DeFi ecosystem rapidly expanding. According to the official website, there are numerous cryptos that can transact (lend or borrow) on this platform.
Compound Fundamental Analysis
COMP Finance could become an important part of realizing this envisioned "multi-chain future" where many chains will be interconnected through gateways like Compound. This would allow for faster transactions between different blockchains without having anyone coin serve all functions across them. This, however, remains highly risky given the market volatility, so investors should take caution when considering investing in it.
Compound Technical Analysis
The price of (COMP) has gone down from over $900 in April to its current price of $283.  While it continues to weaken, selling volumes have been in decline over the last couple of months. This means it could be trading within a buy zone in the $270 to $285 range.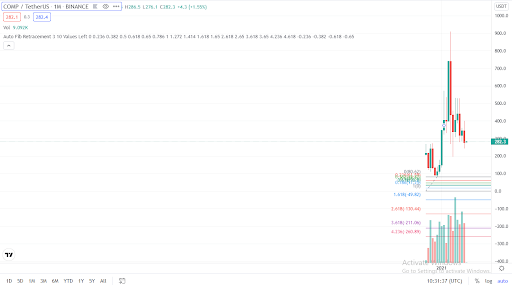 Source – TradingView
 It's important to note that the resistance levels are $300,  $440 and $573. If bulls take control and COMP jumps again above $580 the most likely target will be $650!
However, if it keeps weakening and the $270 support gives way, prices below $240 could be hit at some point in 2022.  But with the wider market bullish, and COMP's strong fundamentals, this is unlikely.